How can I learn to be frugal, when there's so much beauty in the world and I want to grab every bit of it?
pictures taken by Nádia Sepúlveda (me)
Sheer shirt:Stradivarius///Shorts:Oysho///Coral top:Bershka///Flowery sneakers with DIY ribbons:Pimkie///Coral socks:Asos///Bag:Oysho///Hair pins:Primark///Sunnies:Mango///Watch:Parfois
Coral lipstick: KIKO
There's something so beautiful about simplicity! Wearing my new things with love and proud, hehehe!
My last week before France is here already! Time to pack! :D
Keep on sharing some love here, dears!
LOVE
NÁDIA
Camisa transparente:Stradivarius///Calções:Oysho///Top coralBershka///Sapatilhas de flores com fitinhas DIY:Pimkie///Meias:Asos///Carteira:Oysho///Ganchos:Primark///Óculos de sol:Mango///Relógio:Parfois
Baton coral: KIKO
Há algo tão lindo na simplicidade! E em usar coisinhas novas e baratinhas com orgulho, hehehe!
A minha última semana em Portugal antes das minhas férias está aí! Tempo de pensar nas malas! :D
Continuem a partilhar o vosso amor!
BEIJO
NÁDIA
****************************************************
OH!
Now, a little sneak at my jumping bloggers adventures:
********
AH,
Para quem ainda não viu, aqui está uma olhadela às aventuras saltitantes de 3 bloggers em Braga: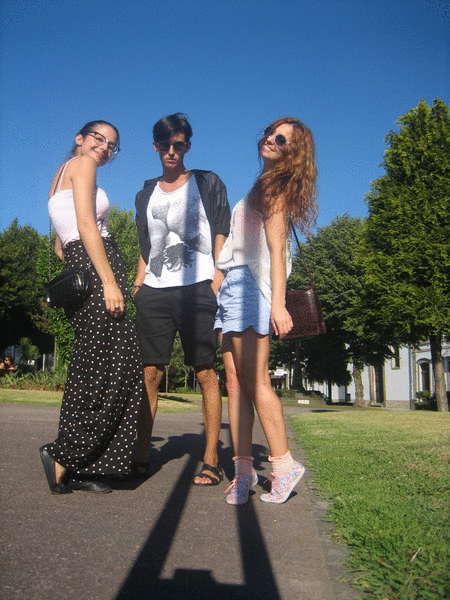 You can check more funny pictures with Cátia from Behind Cáti's Eyes and João from Life is a Drug Suck it! HERE!